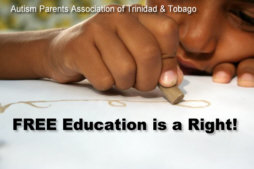 "
Education is not a privilege of the rich and well-to-do; it is an inalienable right of every child. Provision of basic education free of costs is a core obligation of States."
"Privatisation in education negatively affects the right to education both as entitlement and as empowerment. Moreover, it depletes public investment in education as an essential public service and can lead to abusive practices," the expert stressed, recalling his 2014 report* to the UN General Assembly.
-- Dr. Kishore Singh (India), the Special Rapporteur on the right to education since August 2010, is a professor specialized in international law who has worked for many years with UNESCO for the promotion of the right to education.
Source
3rd December - International Day of Persons with Disabilities
"Persons with disabilities, "the world's largest minority", often face barriers to participation in all aspects of society. Barriers can take a variety of forms, including those relating to the physical environment or to information and communications technology (ICT), or those resulting from legislation or policy, or from societal attitudes or discrimination. The result is that persons with disabilities do not have equal access to society or services, including education, employment, health care, transportation, political participation or justice." Ref.
Source
20th November - Universal Children's Day
"The Convention, which is the most widely ratified international human rights treaty, sets out a number of children's rights including the right to life, to health, to education and to play, as well as the right to family life, to be protected from violence, to not be discriminated, and to have their views heard." Ref.
Source