Use TTAutism.org for News 2019+
New (2019):
We now have APATT's News updated exclusively at
APATT News - TTAutism.org
. You can keep using TTAutism.com for the Forum and other information.
Archive 2015-2018
Below is an archive of APATT News. Please use
APATT News 2019+
for the latest News from the Association. APATT Members can also utilize the
APATT's Initiatives
Board which allows discussion / comments on these reports.
Latest News (At the Top):
January 2019+
Please see more at TTAutism.ORG
October 17th, 2018
APATT Letter of the Day. Autistic Children being denied their rights. Trinidad Express Newspaper.
June 7th, 2018
APATT meets Her Excellency Paula-Mae Weekes, President of the Republic of Trinidad & Tobago.
In an extraordinary, one on one meeting, Her Excellency and Maria Borde (APATT President) discussed the plight of Autism parents and their children.
May 8th, 2018
APATT meets Disability Director at the Ministry of Social Development
APATT had a meeting with Disability Director, Ms. Rogers to discuss the issues Autism Parents face with regards to access to public grants to assist their children.
APATT meets Honourable Anthony Garcia, Minister of Education of Trinidad & Tobago.
APATT had a meeting with Mr. Garcia to address the urgent educational needs of children with Autism in T&T.
April 17th, 2018
APATT meeting at the Office of the PM (Gender and Child affairs)
APATT President, Maria Borde was invited by the office of the PM (gender and Child affairs) to have a meeting headed by Jacqueline Johnson, Permanent Secretary in the Office of the PM, Mr. Bertrand Moses, Coordinator of Child Development, along with other members of staff. The purpose of the meeting was to discussed the serious plight of Autism parents with regards to free public education & therapy.
April 17th, 2018
APATT more support for Autistic persons.
Article published in the Trinidad Express Newspaper.
April 11th, 2018
APATT supports the autistic, caregivers.
Article published in the Newsday Newspaper.
April 4th, 2018
Autism: 11 years of inaction over Autism. Let that sink in.

Article published in the Trinidad Express Newspaper.
April 2nd, 2018
APATT featured in Trinidad Guardian Newspaper
The Trinidad Guardian featured an article about Autism in T&T and APATT's position.
April 2nd, 2017
APATT launches a second video animation
On Autism Awareness Day, APATT launched a second video animation called "Lucy wants to go to school" highlighting the urgent educational needs of children on the Autism spectrum in T&T :

https://www.youtube.com/watch?v=Z-p3I_1bkMU
March 27th, 2017
APATT launches "Peter's dream"
APATT produced a video animation to highlight the plight of Autism Parents and their children in T&T (the vignette has been featured on CCN TV6) :
https://www.youtube.com/watch?v=4nPsypytPdM
March 27th, 2017
Trinidad Express Article
The Trinidad Express featured an article written by APATT's President, Maria Borde about practical ways to help Autism families in T&T:
http://www.trinidadexpress.com/20170327/features/getting-help-with-an-autistic-child
July 12th, 2016
Trinidad Express article on APATT / Transparency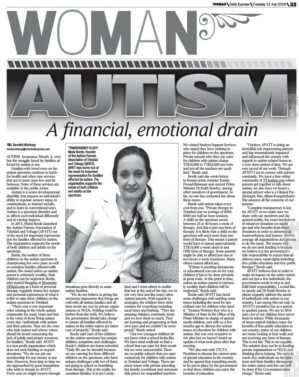 May 5th, 2016
APATT meets with Reps from United Nations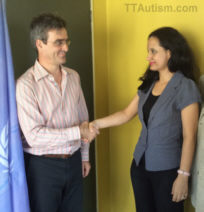 April 27th, 2016
APATT at Holy Name Convent POS

Holy Name Convent students put on a presentation about autism.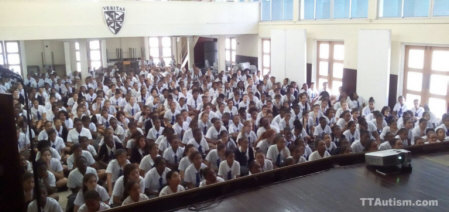 April 4th, 2016
APATT on TV6 Morning Edition with Fazeer Mohammed
APATT President, Maria Borde and APATT Special Adviser Sian Allum-Kungebeharry appeared on TV6's Morning Edition to discuss "Autism Action" for Autism Awareness Month. Video of the interview will be uploaded to APATT's channel soon.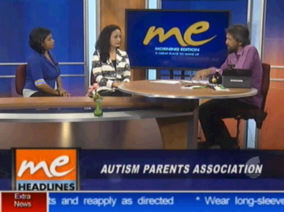 March 21st, 2016
Get Pied For Autism Challenge
Reaching a different segment of the public via an unusual method in order to spread a message through specific questions and answers.
8th Feb, 2016
Open Letter To The Honourable Prime Minister Dr. Keith Rowley
November 17th, 2015
APATT on TrinityTV - "Breakfast with the Deacons"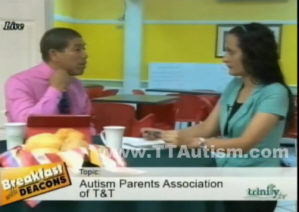 November 13th, 2015:
APATT meets with Hon. MP Ayanna Webster-Roy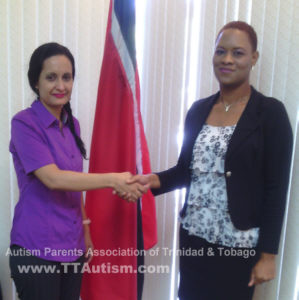 Hon. Minister of State in the Office of the Prime Minister with a portfolio that includes special needs children. Read More
November 11th, 2015:
APATT & TTUTA Presidents Discuss Special Education In T&T:
The Autism Parents Association of Trinidad &Tobago (APATT) President Maria Borde (left) met with the President of the Trinidad and Tobago Unified Teachers Association (TTUTA) President Mr. Davanand Sinanan (right) to discuss APATT's mission with regards to the serious issue of the lack of proper educational facilities with qualified teachers for children with Autism in our country and the fact that it is the government's solely responsibility to provide the aforementioned.

Mr. Sinanan has already stated with regards to Special Needs Education:

"It's a mixture of NGOs, CBOs, religious organisations and the State and you have all kinds of substandard, sub quality education being imparted to these children in these 'special schools.' No one can be held accountable when things go wrong because you are not quite sure who is the owner of the school, who is the administrator of the school, who is responsible for the school. A lot of nonsense takes place in many of these schools and it is high time that the State accepts that it has a responsibility to provide quality education to those students just as well and not depend on the NGOs and CBOs." Source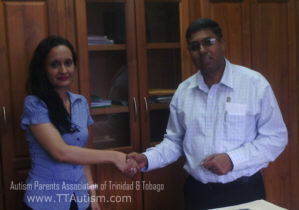 October 27th, 2015:
Maria Borde, APATT's President and Founder, interviewed live on the "Morning Brew" TV show tomorrow (Tuesday October 27th) show hosted by Hema Ramkissoon on CNC3. Read More.
October 20th, 2015:
Martina Chow (left) President of the Music Therapy Association of Trinidad & Tobago generously donated $2,000TT to APATT. We are indeed very grateful and we will ensure the funds go directly in helping some of our families who are in desperately need of services for their children.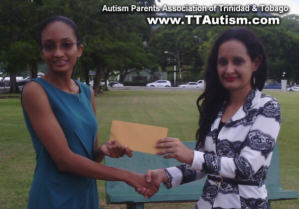 October 3rd, 2015:
APATT Booth at the 9 Months and Beyond Family Expo in Maraval.
September 20th, 2015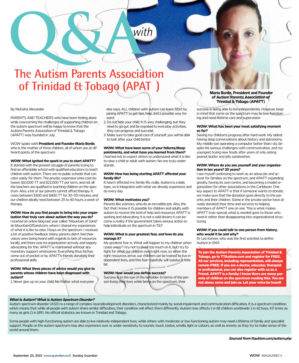 See Larger version.
APATT featured in Guardian's WOW Magazine.
August 19th, 2015
Radio interview about APATT on Roots FM Jamaica 96.1.
July 27th, 2015
The Autism Parents Association of Trinidad and Tobago (APATT) was incorporated under the Companies Act, 1995.